In this comprehensive review, I take an in-depth look at Instarem's services based on my research and hands-on testing.
As part of my survey of the whole money transfer market, I signed up for an Instarem account, verified, and sent multiple test transfers to evaluate key metrics like fees, exchange rates, transfer speed, ease of use, and customer support.
Key factors I examined include:
What are Instarem's fees and exchange rates like? How do they compare? Are there any hidden fees?
How fast do transfers with Instarem take in reality?
What payment and payout options does Instarem offer? How helpful is customer support?
Was signing up and initiating transfers simple and intuitive?
Is Instarem properly licensed and regulated? How does it safeguard user funds?
By the end, you'll have a complete picture of what it's like to use Instarem. I'll also provide a transparent assessment of Instarem's strengths and weaknesses compared to major competitors like Wise and WorldRemit.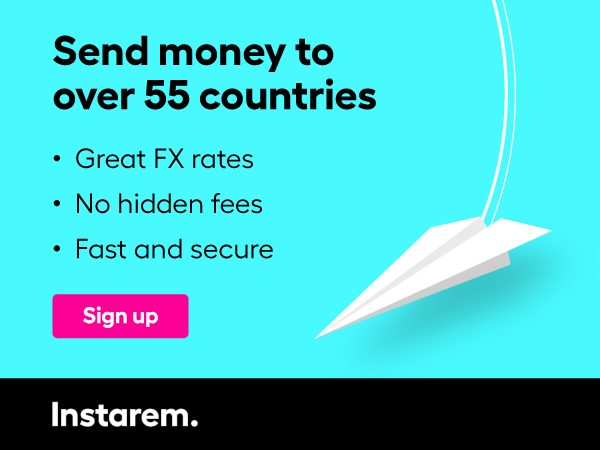 Instarem Review: My Verdict in 30 Seconds
Overall, Instarem seems worth using if you need to quickly send smaller amounts to India, SE Asia, or China from the US, UK or Canada. But for most other transfers, you'll likely get better pricing and service from alternatives like Wise and WorldRemit.
Instarem's strengths lie in its smooth user experience, relatively quick transfer times, and availability on popular corridors like US to India.
Signing up and sending money was straightforward. Transfers were completed in 1-3 business days in my tests, which is faster than most banks.
However, Instarem's fees and exchange rates were not very competitive in the major transfer corridors I tested. The lack of transparency about its pricing model is also concerning – all costs are baked into the exchange rate markup rather than broken out clearly. I found Wise and WorldRemit had lower total costs for similar transfers in most cases.
The limited country coverage is another downside, with fewer options compared to the largest players. Customer service and support channels are also quite barebones.
What are the Pros and Cons of Instarem?
Pros
Smooth user experience – Easy to open an account and initiate transfers online or via mobile app
Relatively fast transfers – Money usually received in 1-3 business days
Good coverage for India and SE Asia transfers – Competitive rates for these corridors
Higher limits for individuals – Can send more per transfer than some competitors
Available on popular corridors like US-India and UK-India
Cons
Costs more than top competitors for most routes – Exchange rates have wider margins
Lack of transparency with pricing – All fees baked into exchange rate markup
Limited payout options – Mainly bank deposits; lacks cash pickup
Sparse customer service – Live chat only, limited FAQ/help center info
Less extensive country coverage – fewer options than leading players
Complaints of slow refund times – Some cite weeks-long delays
Verification can take 1-2 days – Longer account setup process
Who are Instarem?
Instarem is an international money transfer service founded in 2014 and headquartered in Singapore. It allows individuals and businesses to send money abroad to over 50 countries worldwide.
Some key facts about Instarem:
Founded in 2014 by Prajit Nanu and Dimitri Kavvathas. Based in Singapore but offers services globally.
Venture-backed fintech company that has raised over $13 million in funding.
Claims to have served over 1 million customers and processes over $4 billion annually.
Currently has over 150 employees across Singapore, India, Indonesia, Japan and Lithuania offices.
Licensed and regulated in various jurisdictions, including Singapore, Australia, Canada, Hong Kong, Malaysia, and the UK.
The main sending countries are Singapore, India, Malaysia, USA, Canada and Hong Kong.
The main receiving countries are India, Indonesia, the Philippines, China, Vietnam, and Thailand.
Which countries Can you send to with Instarem?
Instarem enables money transfers from various countries including Australia, Canada, Singapore, Hong Kong, Malaysia, Euro Zone Countries, the UK, India, and the US.
Instarem Fees & Exchange Rates
Instarem's lack of fixed fees makes it appear cheaper than its rivals at first glance. But exchange rate margins add to the total cost, usually more than compensating for the lack of transfer fees. The lack of transparency around rate markups is an issue. Wise and WorldRemit disclose their exact margins.
Fees
Instarem does not charge fixed transfer fees for most routes. The only fee is typically a small percentage of the transfer amount.
For bank transfers, there are usually no fees at all. They charge around 2-3% as a card processing fee for card payments.
Some less common corridors, like transfers to Nigeria, do have fixed transfer fees of around $30.
No fee for creating an account or maintaining an account balance.
Exchange Rates
Instarem uses variable exchange rate margins rather than fixed markups. The margins vary by currency pair, transfer size, country, and other factors.
For major currency pairs like USD/EUR, USD/GBP, EUR/GBP, the margin is around 0.5% on average.
For exotic currency pairs involving Asian or African currencies, the margin can be 1% to 3%.
Exchange rates are less competitive for smaller transfer amounts below $1000 or so.
Instarem does not disclose the exact exchange rate margin they apply. You only see the net rate offered after their margin is applied.
Rates are fetched from global currency markets and set dynamically. The rate shown at the time of transfer locks in.
Instarem costs vs Wise
At the time of writing, I tested sending £1000 to India.
Using Instarem the end user would receive: INR 105.3795
Using Wise the end user would receive: INR 105,360.67
So Wise comes out very marginally cheaper.
As an alternative, if I sending £10,000 to Argentina results in these fees:
Using Instarem the end user would receive: 3,421,097.00
Using Wise the end user would receive: 3,407,190.40
For that sum/destination, Instarem was cheaper.
Who Should Use Instarem?
People sending smaller amounts below $1000 – The lack of transfer fees and competitive exchange rates on small transfers make Instarem a cost-effective option.
Those focused on major corridors like US-India – Instarem offers smoother transfers and decent rates for this popular route.
Customers needing fast transfers – Transfers are generally completed quicker than with traditional banks.
Expats sending money home regularly – The convenience and speed is advantageous for recurring transfers.
Small business owners – Features like multi-user access and mass payment capabilities accommodate business needs.
Customers lacking documentation – Instarem has flexible KYC requirements for certain countries.
Those without bank accounts – Instarem allows funding via cash deposit at banks in some countries.
People needing higher transfer limits – Instarem accommodates larger individual transfers than some rivals.
Customers valuing simplicity – The user experience is straightforward and intuitive.
Who Should Not Use Instarem?
Sending large amounts over $10,000 – Instarem's fees and rates get increasingly expensive compared to competitors.
If you need cash pickup – Instarem lacks this payout option unlike leading players like Wise and WorldRemit.
When you need the lowest fees – Providers like Wise and Remitly offer lower fees and tighter spreads.
If you prioritize customer service – Instarem's support options are limited compared to rivals.
For less common transfer corridors – Instarem has less extensive country coverage than top providers.
If you dislike variable pricing – Instarem's exchange rates and lack of fee transparency makes cost comparison difficult.
When you send money infrequently – Account inactivity can lead to holds on future transfers until ID re-verification.
If you need multiple currencies – Instarem currently does not offer multi-currency accounts.
For urgent transfers – While mostly fast, delays can occur and Instarem lacks expedited options.
If you have compliance concerns – Instarem's ID verification process is relatively strict.
How easy is Instarem to use?
Account Opening
Can be completed fully online but involves a 5-step process, including ID verification.
Verification can take 1-2 days, delaying the ability to send money.
Asks for extensive personal details during signup. More cumbersome than competitors.
Initiating Transfers
Simple dashboard interface available on Instarem's website and mobile apps.
Recipient details, transfer info, and payment method can be entered in a straightforward flow.
Can save recipient details for easier repeat transfers.
Funding Transfers
Good variety of funding options, including bank transfers, cards, cash deposits.
The ability to fund transfers via linked bank account varies by country.
Ease of Tracking
Transfer timeline with status updates is easy to access.
Email and SMS notifications on transfer status.
Reference numbers make it easy to identify transfers.
What's Instarem Customer Support like?
Channels Available
Live chat is the only direct support option. No phone support.
In-platform support ticket system.
Email and social media support available but response times are slow.
Help center has some basic FAQs and guides.
Live Chat Experience
Available 24/7.
Fast response times within a minute or two.
Agents are friendly and knowledgeable.
Limited ability to handle complex issues. More for basics.
Tickets and Email
Responses typically within 24 hours for email/tickets.
Average resolution time is 2-3 days.
Responses can be vague for complex queries.
Overall Quality
Excellent for general pre-sale questions.
Lacking for technical troubleshooting or disputes.
Options like phone, messaging, and call-back unavailable.
What are the Instarem Reviews and Ratings Like
Overall, reviews and ratings across sites like Trustpilot, App Store, and Google Play Store range from mediocre to very good. The most common positives highlight Instarem's smooth transfers and cost savings compared to banks. Negative issues mention poor customer service and delays.
Trustpilot
Rated 4.4 out of 5 stars based on over 7,000 reviews
73% give 5 stars, 14% give 4 stars
Positive reviews praise the smooth process, low fees, and good rates
Negative reviews cite slow transfers, poor customer service and lack of support
App Store
Rated 3.5 stars out of 5 on UK App Store based on 60+ ratings
Rated higher at 4.1 stars out of 5 on Singapore App Store with 800+ ratings
Reviews reiterate pros like low fees and fast transfers
Some mention issues taking payment or processing transfers
Google Play Store
Rated 4.3 out of 5 stars with over 7,000 reviews
Over 100,000 downloads on Android
Praised for affordable and fast service, great rates
Complaints about functionality issues and transfer delays
How to Sign up with Instarem?
Here are the typical steps to sign up for an Instarem account:
Go to Instarem's website or download their app and click on "Register".
Enter your email address and create a password.
Select whether you are opening an individual or business account.
Provide your personal details like full name, date of birth, address, phone number, nationality, etc.
Verify your identity by uploading documents like passport, driver's license, or national ID card.
Take a selfie and upload it for facial recognition match. This helps confirm you are the ID document holder.
Enter details about how you plan to use Instarem – countries sending to, purpose, estimated volume etc.
Link your bank account by providing account details. This allows you to fund transfers from your account.
Activate your account by clicking the verification link sent to your email.
You will receive confirmation once Instarem has reviewed your details and verified your identity. This may take 1-2 days.
Once verified and activated, you can start initiating transfers via Instarem's website or mobile app.
How long do transfers take with Instarem?
Instarem claims that most transfers are processed instantly or within 24 hours.
During testing, transfers from the US, UK or Europe to major corridors like India and Southeast Asia took average 1-3 business days.
Transfers to more exotic destinations or using slower funding methods can take up to 5 business days.
Bank processing times on either end can delay funds availability by an extra 1-2 days.
Transfers funded by debit/credit card are faster, usually within 1 business day if cards are processed instantly.
Bank transfers and e-Wallets (PayPal, Payoneer etc) take 2-4 business days for funds to reach Instarem.
Transfers within the same country are generally fastest – can be as quick as within 24 hours.
First transfers or large transfers may face additional delays due to extra verification requirements.
So while not as fast as leaders like Wise or WorldRemit, most standard Instarem transfers complete within 1-3 business days in major corridors based on user reviews. But funding method, countries involved and other factors can impact overall speed.